(The Gaelic name meaning… The Goat Shielings)
ÀIRIGH NAN GOBHAR
The skies over Coll are filled with just as much beauty as the seas that surround this picturesque island. Coll clocks up some of the highest sunshine hours in the UK and the starry sky is second to none as the milky way can be viewed from doorsteps in the heart of the village.
The ferry port at Arinagour has simply breathtaking views towards the Isle of Mull and the Treshnish Isles. Walking to the village from here takes you along the edge of the sea loch and past a couple of quaint old piers.
Coll is a nature lover's paradise throughout the year with rare and elusive creatures to be found here, like basking sharks and corncrakes. Look out for harbour porpoises and bottlenose dolphins from the shore, and keep an eye out on the ferry too - in the summer it passes through waters rich with minke whales and common dolphins.
A bit about the site
The terminal building has facilities and a short walk will take you into the village for shops, cafes, hotel and community centre. Walking on Coll is not difficult and although there is no dedicated car park there is plenty of on street parking throughout the village but take care not to block access.
Getting here
Ferry from Oban
Accessibility
Fully Accessible
Wondrous creatures in the waters
Look out for
Basking sharks
Bottlenose dolphins
Common dolphins
Minke whales
Otters
Lapwings Skuas Red Throated Divers Guillimots
Razorbills
Kittiwakes

Some wondrous creatures call the Hebrides home all year round, while others travel huge distances to spend their summers in these glorious seas. Minke whales are one such species, and are a common sight between March and October in the waters around Coll. Using photographs of distinctive markings on minke whales' backs and dorsal fins, scientists at the Hebridean Whale and Dolphin Trust are able to track individuals. The much loved Knobble the minke whale was first seen in 2002, recognisable by the 'knobble' on its dorsal fin. Knobble has been spotted in these waters nearly every year since first seen 17 years ago, and now even has a facebook page!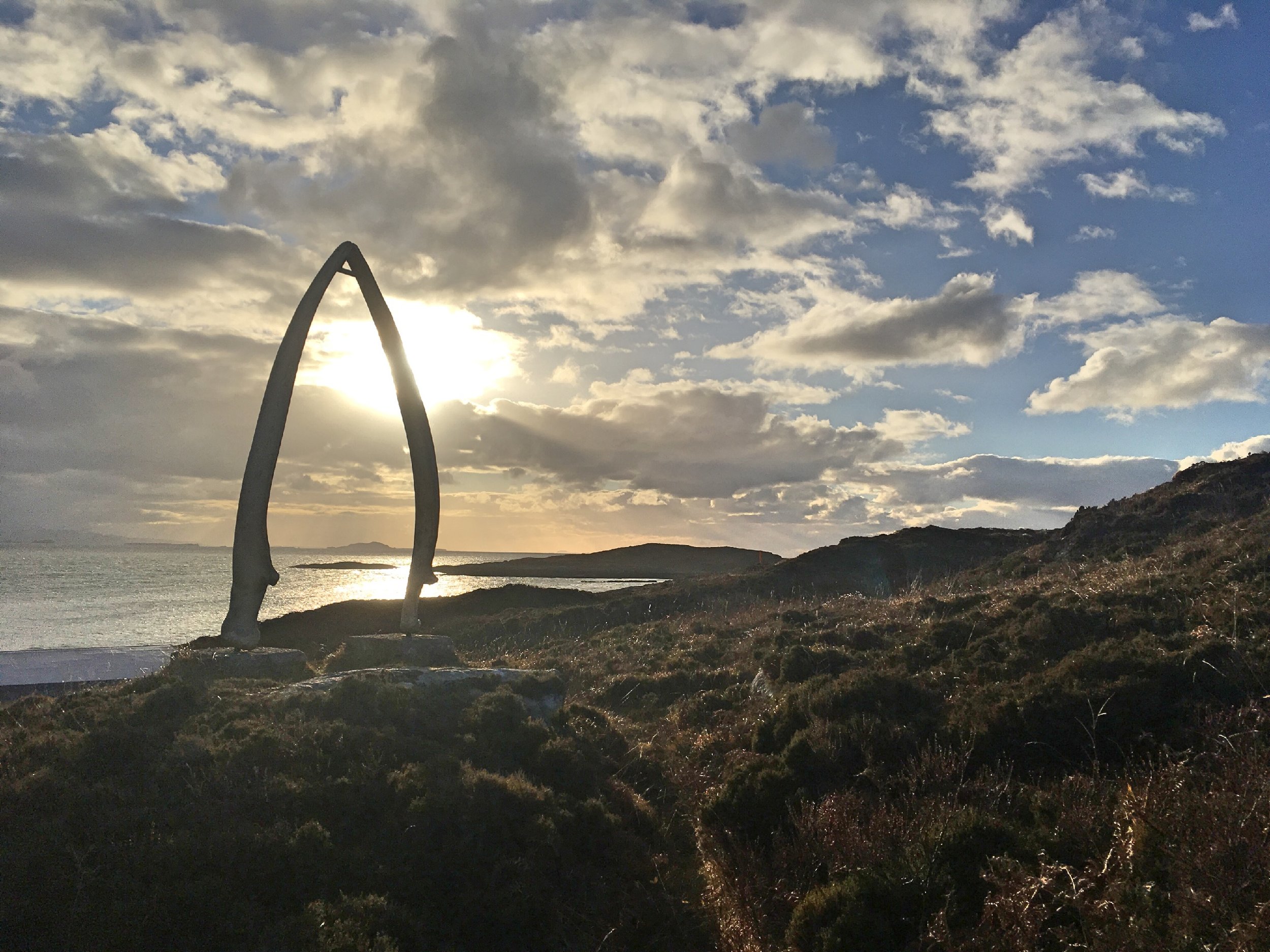 It's hard to miss the giant whale bone arch that stands above the ferry terminal as you approach Coll. The arch is a replica jawbone of a fin whale that washed ashore in 2004. Fin whales are the second largest whale in the world and the arch stands an impressive 12ft high.