(From the Gaelic 'Dubh Ard' meaning… Black Keep)
CAISTEAL DHUBHAIRT
The iconic Duart Castle stands proud on the Isle of Mull, a truly majestic viewpoint overlooking waters teeming with sealife. This is the ancient home of the Clan Maclean and for over 700 years Duart Castle has dominated the view to the Sound of Mull and Loch Linnhe, with its huge curtain walls and solid keep. The castle is still home to the Clan Chieftain, Sir Lachlan, but is open for visitors and even from the car park you have spectacular views for dolphin-spotting!
Have a close look in the rough water towards the lighthouse on the Isle of Lismore, or close in to the keep - harbour porpoises are often spotted here. If you really want to whale-watch in style then head up to the battlements or from the beautiful Sea Room inside the castle where even on damp days you can spot sea life from shelter.
A bit about the site
The castle grounds, tearoom, shop and fantastic views are free for everyone to enjoy! Entry to Duart Castle is by ticket only.
Hop on the Castle Bus when arriving at Craignure on the Isle of Mull. The Bus will take you straight to Duart Castle, and return you to Craignure to link up with the ferry or further buses around the Isle of Mull. There is a large parking area right next to the castle, that offers free of charge parking to all.
Getting here
Ferries from Oban
Accessibility
Castle itself is not fully accessible, however the views, café and toilets are
Wondrous creatures in the waters
Look out for
Harbour porpoise
Bottlenose dolphin
Common dolphin
Seals
White-tailed eagles
Herons Shags Oystercatchers
The stretch of water overlooked by Duart Castle is a veritable porpoise paradise. As the Sound of Mull meets Loch Linnhe and the Firth of Lorn the waters mix and churn up lots of food for hungry porpoises and other creatures. You will see large choppy patches off the coast as these different water bodies meet and mix. Look out for the fleeting backs of porpoises as they dart between the waves in search of food. This diminutive creature is actually voracious predator, hunting fish and other seafood with deadly accuracy!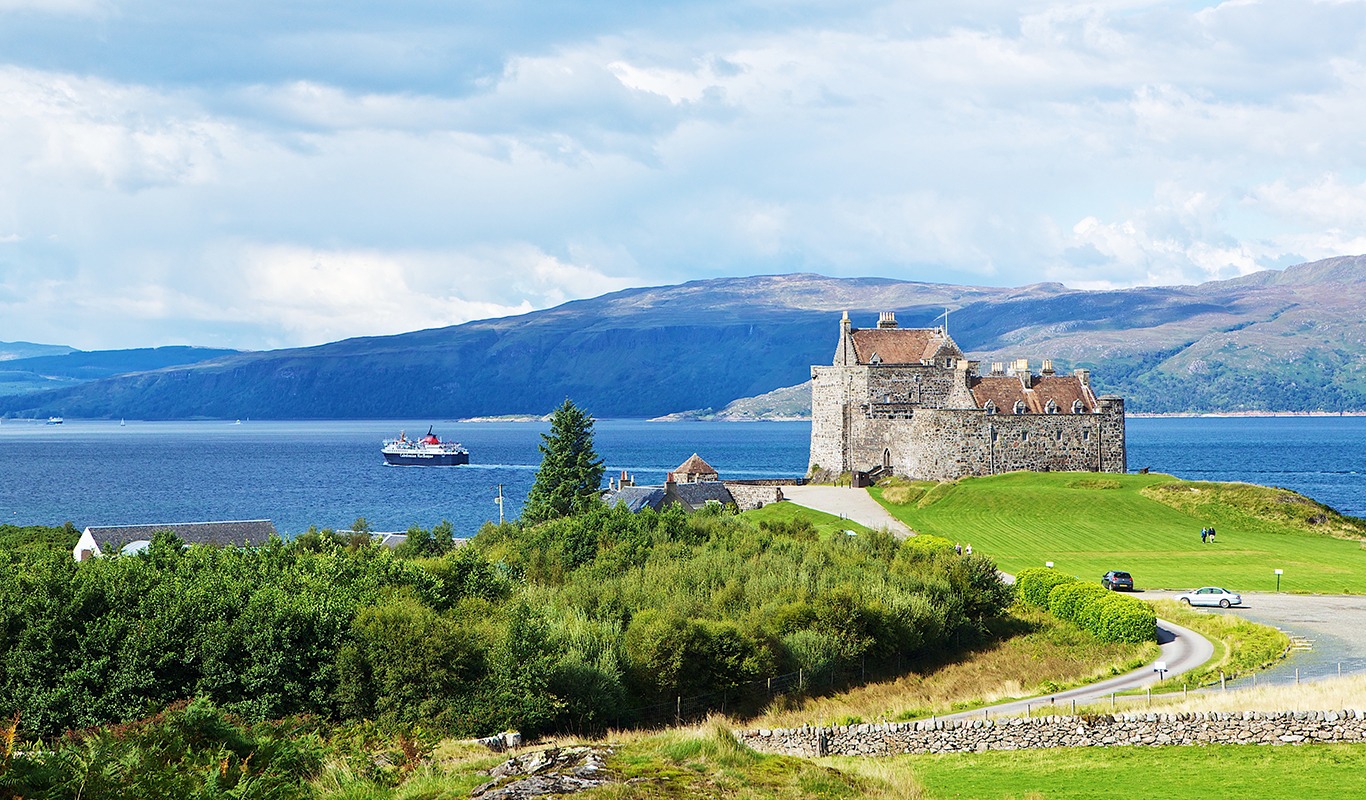 Back in 1527 the lord of the castle decided to murder his wife by abandoning her on a desolate rock in the sea off Duart. Washed by the tide twice a day he figured it would be the perfect place to get rid of his wife. Stranding her on this perilous rock he proceeded with an empty coffin to break the news to her family. Imagine his shock on arrival to find her sat with her family, alive and well. The lucky lady had been rescued by passing fishermen. Today the rock is known as Lady's Rock and carries a navigation beacon for guiding ships on the Sound of Mull.