(The Gaelic name meaning… Headland with the Bare Top)
RUBHA ÀIRD a' Mhuile
Rubha Ardvule is a true wilderness, a rocky promontory sticking out into the sea with long stretches of beach on either side. It's a haven for all sorts of wildlife; seals haul out on the rocks, rare birds nest in the surrounding machair and out to sea you might just spot some of the resident Barra bottlenose dolphins travelling by.
It's a rough track that takes you out to the point, and in some seasons ground nesting birds like lapwings and ringed plover are dotted along as far as the eye can see. You are right on the western edge here, with nothing between you and the great Atlantic.
A bit about the site
The terrain is rough, access is down a track and there is limited parking. We wouldn't recommend taking your vehicle down the track as its not suitable for regular cars, but the walk down will take you through areas bursting with birds and wildlife.
Kildonan Museum, which is 3.5 miles from Rubha Ardvule has a café and facilities, and is well worth a visit.
Getting here
Buses W17 to Kildonan Museum 3.5 miles away
Best accessed by car
Accessibility
The site is outdoors with rough terrain
Wondrous creatures in the waters
Look out for
Bottlenose dolphin
Basking shark
Harbour porpoise
Seals
Lapwing
Terns
Redshank
The coast around here is a seal 'haul-out' where seals come ashore to rest or breed. In Scotland you could see two types of seal - common seals or the larger grey seals. Grey seals have distinctive long straight muzzles, sometimes called a 'Roman nose', while common seals have more of a rounded face and snout. The Gaelic name for seals is ròn, pronounced like the name but with a longer vowel in the middle. You often see seals basking on rocks, and common seals tend to lie in a very distinctive pose, with their heads and tails raised up so their silhouettes are a curved - like a banana!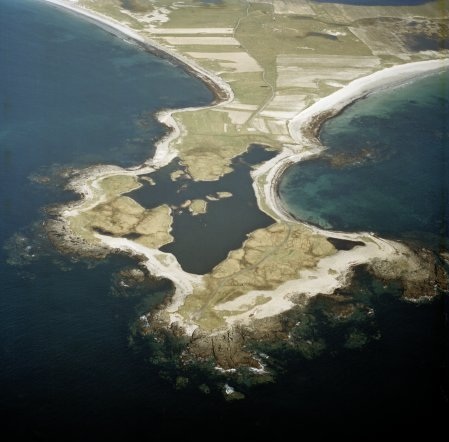 The nearby archaeological site of Cladh Hallan dates from the Bronze and early Iron Ages and contain evidence that these early inhabitants of Uist made good use of whales that washed ashore. The hearths in these ancient houses were full of burnt whale bone, which is high in oils and fats making it a valuable fuel source. Uist is lush but not forested so without a steady source of firewood the industrious natives burnt bone for cooking and warmth. Cladh Hallan is remarkable in many other ways as two mummified bodies were found in the settlement, it turns out you don't have to go as far Egypt for ancient mummies!