(Gaelic name meaning…Great Barn of Ostaig)
SABHAL MÒR OSTAIG
You might be surprised to find a vibrant university campus here in the wilds of Skye, but Sabhal Mòr Ostaig is a pretty special place. In amongst the glorious coastline and natural wilderness of the Sleat Peninsula these trendy students might seem out of place, but if you stop to listen for a wee moment you will realise this is their natural habitat.
Sabhal Mòr Ostaig is a Gaelic college and the staff and students all converse in the language native to this area. Visiting here is an incredible opportunity to connect with nature and culture, as you try to spot wildlife in an environment where Gaelic is the primary language spoken (but don't worry everyone speaks English too!)
Overlooking the Sound of Sleat, this is a great vantage for spotting lots of species - harbour porpoises, bottlenose dolphins, minke whales and basking sharks! Just down the road at Armadale there is a group of volunteers for the WDC Shorewatch programme who can regularly be found whale watching next to where the ferry comes in.
A bit about the site
The college has an enviable shore-side location with ample opportunities to seek and spot marine life. There are large glazed screens to the inside of each floor of the Academic Hub building overlooking the Sound of Sleat and Knoydart and, in favourable weather, there is an external roof terrace with steps as the top floor of the Fàs building. This terrace is a great place for spotting, and is fully accessible.
The college campus has plenty of parking, a great cafe and facilities. Please note that the available parking spaces can become busy at certain times and events in the year. The safe driving limit on the college campus is 10mph and dogs must be kept on a lead and under control.
Getting here
Ferries from Mallaig
Regular buses from Portree, Kyleakin and Broadford
Accessibility
Fully accessible
Wondrous creatures in the waters
Look out for
Harbour porpoises
Bottlenose dolphins
Minke whales
Basking Sharks Seals
Otters Gannets
Manx shearwaters
Terns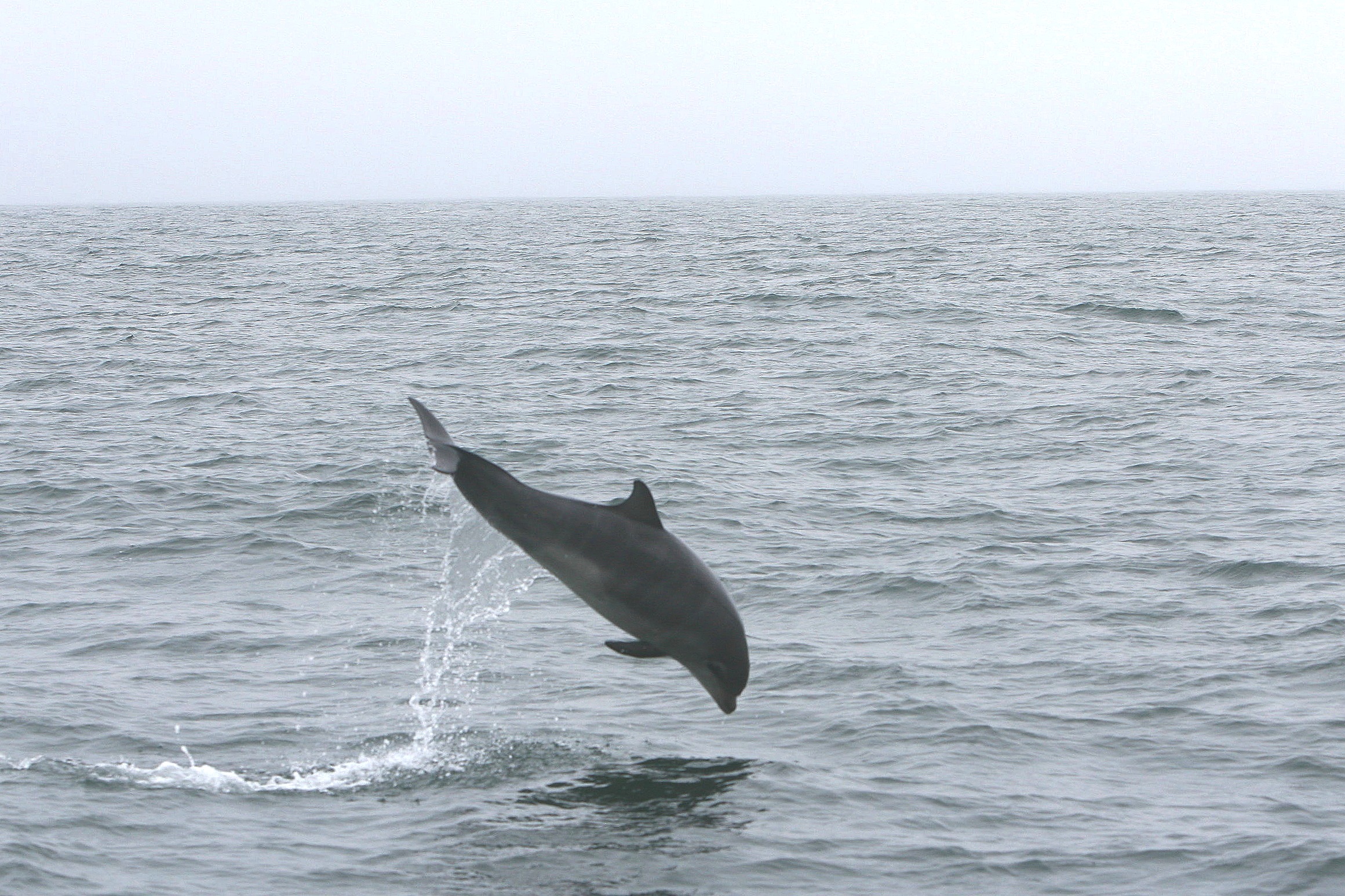 Muc-bhiorach is the Gaelic name for bottlenose dolphins, and translates as 'pointed pig'. It seems like whatever language you speak, these big chunky dolphins are recognised by their pointy 'bottle' noses. That's not the only way to identify these playful creatures though; these dolphins can be really acrobatic, usually seen in groups of 1-10, and have big prominent curved dorsal fins in the centre of their backs. Look out for amazing acrobatic displays as they leap right out of the water!
The Gaelic names for the wondrous creatures in these seas might look tricky to pronounce but are wonderfully descriptive. Dolphins are leumedair meaning 'one who leaps', porpoises are peilag meaning 'little puffing one', and whales are muc-mara which is the admittedly slightly less poetic 'sea-pig'. A particularly apt name is mada-chuain which is the Gaelic name for killer whales, and this translates as 'ocean-wolf'. With strong family bonds and clever skills for hunting in pods (or packs?) this wonderfully captures some of the behaviour of these charismatic creatures.